Koncert Akademie komorní hudby v Nelahozevsi
25. června 2020, 12:42

●

Ostatní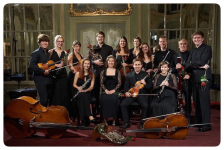 Komorní orchestr Akademie komorní hudby, složený z nejtalentovanějších českých mladých hudebníků a hudebnic, vystoupí mezi 8. a 12. červencem na venkovních koncertech na Hradě Pirkštejn, vodním pódiu GASK v Kutné Hoře, v Synagoze v Kolíně a na nádvoří zámku v Nelahozevsi. Studenti se představí pod vedením uměleckého vedoucího AKH Tomáše Jamníka, českého violoncellisty a vítěze soutěže Pražského jara z roku 2006. Na koncertech zazní mimo jiné i slavná Symfonie č. 3 "Eroica" Ludwiga van Beethovena, u kterého si v tomto roce připomínáme 250. výročí od jeho narození.
"Pro většinu našich hudebníků budou koncerty prvním vystoupením po vynucené přestávce kvůli okolnostem, které všichni známe. Byli jsme zavření doma a nyní chceme konečně zase potkat naše posluchače. Je to pro nás emotivní," říká Tomáš Jamník. "Pokud nám to počasí dovolí, odehrají se všechny koncerty na čerstvém vzduchu, navíc v místech s neopakovatelným geniem loci, jako třeba na vodním pódiu v Kutné Hoře s výhledem na Chrám sv. Barbory nebo na zámku v Nelahozevsi u Prahy, rodném městě Antonína Dvořáka."
Posluchači se budou moci těšit na Koncert pro dva klarinety Es dur Františka Kramáře ve světové premiéře úpravy pro noneto, které se zhostil skladatel Jiří Kabát, a Symfonii č. 3 "Eroica" Ludwiga van Beethovena tentokrát v české premiéře verze pro noneto. Eroicu, kterou Beethoven dokončil v roce 1804, věnoval skladatel knížeti Josefu Františku Maxmiliánovi z Lobkovic, předkovi Williama Lobkowicze st., nynějšího majitele zámku v Nelahozevsi, na kterém proběhne i závěrečný koncert páté sezóny Akademie komorní hudby.
Komorně orchestrální koncerty proběhnou ve středu 8. července od 19:30 na Hradě Pirkštejn v Ratajích nad Sázavou, v pátek 10. července od 19:30 na vodním pódiu Galerie Středočeského kraje v Kutné Hoře, v sobotu 11. července od 19:00 na zahradě Kolínské synagogy a závěrečný koncert v neděli 12. července od 17:00 na nádvoří zámku v Nelahozevsi. Akademie komorní hudby také zakončí koncerty v Kutné Hoře a Kolíně speciálními komorními nokturny v intimní atmosféře při svíčkách.
Akademie komorní hudby se již pět sezón věnuje podpoře mladých talentů z České republiky a vzdělávání v oboru komorní hry. Výuka je realizována formou projektů, během kterých stipendisté připraví společně s lektory program, jenž je v závěru proveden na několika návazných koncertech. Mezi absolventy Akademie komorní hudby patří například klavírní soubor Trio Incendio (vítězové soutěží Gianni Bergamo Classic Music Award v Luganu, Coop Music Awards v Cremoně či Soutěže Bohuslava Martinů), které na kurzech AKH založili Filip Zaykov, Vilém Petras a Karolína Františová. Mezi další úspěšné absolventy patří violostka Anežka Ferencová (zástupkyně vedoucího skupin viol v Symfonickém orchestru Českého rozhlasu), klavíristka Kristýna Donovalová (vyhledávaná komorní hráčka) nebo kontrabasista Tomáš Karpíšek (člen České filharmonie).
Místa na koncerty lze rezervovat na e-mailu rezervace@akademiekomornihudby.cz nebo zasláním SMS na číslo 731 739 603. Více o programu naleznete na www.akademiekomornihudby.cz.
Nejnovější aktuality: